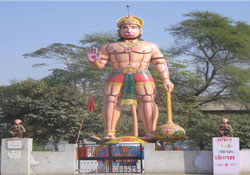 Sri Ganganagar was established by Maharaja Ganga Singh, near Ramnagar which was named after Ram Singh Ji Saharan and now known as 'Purana Gaam'. It is situated at the point where the Sutlej waters enter Rajasthan or the erstwhile Bikaner State. It is said by the elders that this area first came under the erstwhile Bahawalpur state but due to the large open area this was unguarded and Hindu Mal one of the companions of Maharaja Ganga Singh took advantage of this opportunity and changed the boundaries or the posts along the boundary. He started his journey to change posts from Suratgarh in south till Hindumalkot City in north of this district. He informed the Maharaja about his successful sneaky invasion of the area when he reached the northern part and thereafter died giving name to the city Hindumalkot.
In 1899-1900, the Bikaner State was affected by the worst famine. In order to resolve this issue permanently, Maharaja Ganga Singh obtained the services of AWE Standley, Chief Engineer, who demonstrated the feasibility of the western area of the Bikaner State being brought under irrigation from the Sutlej waters. The plan of the Sutlej Valley Project was drawn by then Chief Engineer of Punjab, RG Kennedy, according to which the vast area of erstwhile Bikaner State could be brought under irrigation. However, the project got delayed due to objections by the erstwhile State of Bahawalpur.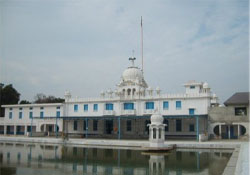 Finally, with intervention of then Viceroy of India, Lord Curzon, in 1906, a Tripartite Conference was held and an agreement was reached and signed on 4 September 1920. The foundation stone of the Canal Head Works at Ferozepur was laid on 5 December 1925 and the work completed in 1927 by constructing 143 km (89 mi) of lined canal. The opening ceremony was performed on 26 October 1927 by Lord Irwin, the then Viceroy of India. The plan for the city of Sri Ganganagar was drawn at this time. Irrigated parts of Bikaner State were brought under Sri Ganganagar district and later sub-divided into Hanumangarh district.
Sri Ganganagar District is located between Latitude 28.4 to 30.6 and Longitude 72.2 to 75.3[2] The total area of Sri Ganganagar is 11,154.66 km² or 1,115,466 hectares. It is surrounded on the east by Hanumangarh District, (Hanumangarh district was carved out of it on July 12, 1994) on the south by Bikaner District, and on the west by Bahawalnagar district of the Pakistani Punjab and on the north by the Punjab.